Ocean Forest Villas-- Oceanfront Myrtle Beach Condos by Elliott Beach Rentals
Must Cross Street To Get To The Ocean
Myrtle Beach vacations are all about the ocean. So stay in an ocean view vacation condominium at Ocean Forest Villas. The views are spectacular and the balcony is enticing; spend the afternoon gazing seaward at all the fun happening on the ever popular white, sandy beaches of Myrtle Beach, South Carolina. These vacation rentals are spacious with plenty of room for privacy as well as large living areas where your family can gather for dinner or even to watch a family movie together.
Comfortable furniture, beautiful decor, and a coastal ambiance await your family inside this vacation condominium property. There is a full kitchen with a breakfast bar, dishwasher, and microwave, just like you have at home. A refreshing swimming pool is available for those afternoons when you feel like lounging poolside during your Myrtle Beach vacation. Stretch out on a chaise lounge and take a nap while your family plays in the swimming pool that faces the Atlantic Ocean. Cross the lawn, down the sandy path that leads by the dunes and sea oats, and emerge at the most popular attraction in Myrtle Beach, South Carolina - the beach.
Beauty stretches as far as the eye can see when your bare feet are touching the warm sand. Jump the rolling waves as they come inshore and go for a quick swim, cooling off in the salty sea while your feet comb the ocean floor for sand dollars. Such activity is a wonderful way to enjoy your Myrtle Beach vacation and because your condominium rental is so close to the beach, going down to the sand from your Myrtle Beach vacation condo is so easy.
While the comfort and on-site amenities at Ocean Forest Villas are terrific, your family will likely want to visit many of the attractions scattered throughout Myrtle Beach, South Carolina. From this vacation property, you are only minutes away from championship golf, dining, shopping, and family activities that will keep you smiling for the duration of your Myrtle Beach vacation.
Property Location
Location: Oceanfront
Area: Myrtle Beach
5601 North Ocean Blvd
877-868-2750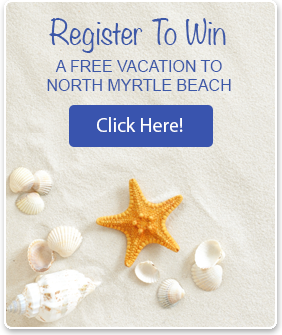 Disclaimer
Myrtle Beach Vacation Rentals is not affiliated with onsite management or the HOA of this complex.